When planning to remodel a kitchen, it's important to understand layout options, work triangle, cabinet types, door styles, finish choices, and countertop options. It's a lot of work to research, but worth it to end up with a kitchen you really love and no regrets.
This post has links to products I used to do this project. If you click on those links, I may earn a small commission at no extra charge to you. Thanks for your support.
We're taking the first steps toward a new kitchen. Hurray! We have planned to remodel our circa 1950s kitchen since we moved into our home over three years ago. But first, we wanted to take the time to live with it to learn how the layout and flow of the kitchen work. We wanted to know what should stay the same, and what needs to change. I had hoped to find that we could just update the cabinets, but, sadly, they are at the end of their life. So we are planning to install new kitchen cabinets.
There's a lot to learn and decide when designing a new kitchen. I'll cover a few of our decisions, and give links to sites where you can learn more. I've also included pictures of kitchens I love from my favorite home planning site, Houzz.com.
The Layout
We currently have a U-shaped kitchen, which I love. It is open on one end to the dining and living rooms, so it feels more spacious and connected. But it is closed off enough that visitors can't easily see my sink full of dirty dishes. That was something that always bothered me in our last house, which was a very open floor plan. (I could just wash the dishes, but come on, let's be realistic.) So the U-shaped layout stays.
Other layouts include galley, L-shaped, and G-shaped. Merillat, a cabinet maker has a good image and description of each here.
Work Triangle
You know how some kitchen just feel right and easy to use, and in other kitchen nothing seems to be where it should? That's because of the work triangle. A well-designed kitchen should have areas for preparing food, cooking food, and cleaning up, and these three areas should work together. The easiest way to figure out the work triangle, is to draw lines between the sink, the fridge, and the stove. These lines should form a triangle that is not too big and not too small. You can read more about the work triangle on this guide by Ikea..
After living with our kitchen, I've found it has an good work triangle. The fridge, stove, and sink are the perfect distance apart for me. There are separate areas for preparing, cooking, and serving. The only thing our kitchen lacks is countertop space on the right side of the stove. That would complete the cooking area.
We are lucky because keeping the same layout means that we don't have to move any water and gas lines, which is good for our budget. Everything will stay pretty much in the same place, it will just be upgraded.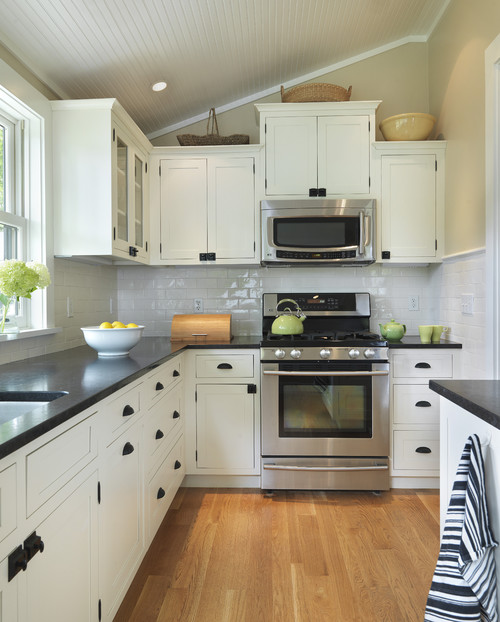 Cabinet Styles
There are three styles of kitchen cabinets. Inset cabinets, where the doors fit perfectly inside the frame. Lovely, but expensive. Partial overlay, where the door hangs in from of the cabinet frame. A very traditional look. And full overlay, where only the door shows, and the cabinet frame is hidden behind. Euro, or frameless, cabinets are included in this category because they look the same. Think Ikea cabinets. Houzz.com has a great article about cabinet types here.
We've decided to go with frameless cabinets because of their simple, modern look. Frameless cabinets also have better storage because there's no frame to get in the way and take up space.
Cabinet Door Types
There are many options for cabinet door styles, from the very popular shaker style to raised panel, louver, and slab doors. Decor-ative Specialties (that makes custom cabinet parts) has some great information about how each type of door is constructed here.
Again, we've chosen simplicity with slab doors. They are just a flat piece of wood, ply-wood, or MDF (particle board) with no molding, bumps, or panels. Slab doors make the whole kitchen look very streamlined, and take the focus off the cabinets lead the eye to a more focal point, like a beautiful backsplash, range hood, or other decor.
Door Finishes
I'm not usually one to follow trends, but I love all of the white kitchens that are so popular right now. They look clean, fresh, and so spacious. Plus, a white kitchen goes with our midcentury house because white kitchens were popular then too.
I also love the look of wood cabinets. Their grain lines and natural beauty are so interesting. But I feel like with our wood floors, wood table, and wood kitchen accessories, we have enough wood. I don't think the beauty of wood cabinets would stand out while competing with so much other wood grain.
So, white it is. And I like the semi-gloss look of painted cabinets instead of foil or melamine (which I've read can scratch or peel off). You can read about other finish options at Kitchens.com here.
Countertops
There are so many wonderful options for countertops. I'm still undecided on which we'll use, but I've narrowed it down. In my mind, there are two categories for countertop materials. Those I can set a hot pan onto, and those I can't.
Butcher block and wood, laminate, corian, and are all heat sensitive, which means if I set something hot down on it, even accidentally, the countertop could be damaged. That's not something I can live, or rather cook, with. Unfortunately, these tend to be the more budget-friendly options. But I've lived with heat resistant countertops for too long, and I don't want to go back.
My options for heat-resistant countertops include tile, engineered stone or quartz, cement, steel, and a plethora of stone options, including granite, marble, and soapstone. I have spent the last three years battling grout that will not get clean, so tile is out. Cement and steel feel too modern for my midcentury home. And most natural stone is going to be out of our price range, although I want to do more research locally before I rule it out completely. I absolutely love the look of slate countertops!
Engineered stone is mostly quartz, ground up and put back together. It feels like stone and has the same properties, but has a more uniform look (no natural mottling). You can read more about countertop options in this great article from HGTV.com.
There are more choices to be made down the road as I plan our new kitchen, but these are the big ones. I hope the ideas I've given and the resources I've shared are helpful. I'd love to hear what you do and don't like about your current kitchen. Please comment below!
Like this post? Click here to subscribe to Simple Practical Beautiful to see the rest of our kitchen remodel and more!