Home improvements are so much more fun than improving myself, so this year all of my New Year's resolutions are goals for my home. These are the major projects that will take some planning, budgeting, and scheduling that I would like to get done this year.
This post has links to products I used to do this project. If you click on those links, I may earn a small commission at no extra charge to you. Thanks for your support.
Backyard Landscaping
Since we were able to add a few more feet and level the backyard with our Retaining Wall on a Slope, the yard had been waiting. The kids have had fun excavating the dirt, but it's time for something that looks a little nicer. This spring will be the perfect time to add landscaping and plants to the backyard.
The Plan
Refinish the deck
Put in a sprinkler system and lawn
Add a vegetable garden with a drip system
Start a rose garden
Put in a small fence along the back retaining wall
Fireplace Surrounds
Our fireplace is surrounded by painted wood panelling. Not the awesome, solid wood, vintage panelling we have in our mid-century family room, but the tacky pressed wood with a fake coating panelling. And then painted. We've wanted to tear it out since we first moved in, but we're not sure what's behind it, so we've hesitated. Well, no more hesitating. This year it's coming out.
There's no detailed plan yet, since we don't know what we'll find. Once we repair the wall behind it, if needed, we might add interest to the wall with 3-dimensional wall tiles like these on Houzz.com. We'll also construct a better mantle.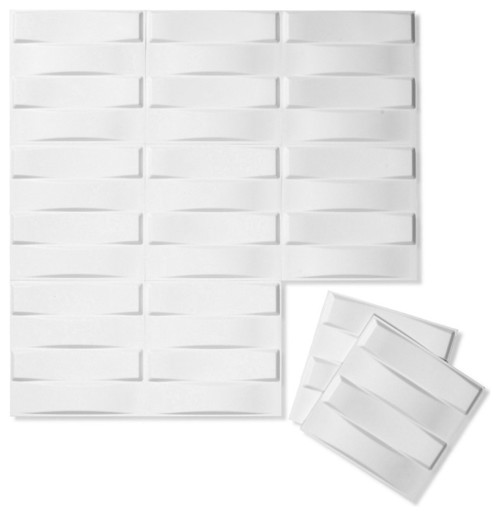 Kitchen Remodel
This is the big one. We have been planning to replace the kitchen cabinets since we moved into our home, but wanted to live with it for a while to make sure we knew what we wanted.  After three years, I know what I like about the layout and what needs to change. I wish I could just paint them, like I've seen done on so many blogs, but there are some structural problems that just a coat of paint won't fix. This is definitely the biggest home project we have tackled, so it's going to take a lot of planning.
The Plan
Measure the kitchen, in detail
Plan the new layout
Research cabinet and countertop options
Budget and save up
Tear out the old cabinets
Build and install the new cabinets
These are the big goals. There are lots of other little projects that will happen as we get to them, without as much budgeting or preplanning. What do you plan to get done around your home this year?
The post Home Improvement Resolutions appeared first on SimplePracticalBeautiful.com.