An easier way to clean silver without all the hassle of polishing. Remove tarnish and make your silver shiny with this easy DIY alternative to chemical polish.
April Pinterest Challenge Blog Hop
Welcome to the April Pinterest Challenge Blog Hop! The purpose of this Pinterest Challenge is to motivate all the participants of this hop (and you too) to not just pin, but to make it happen! So this month, I chose to try an easier way to clean silver.
To join next month's #pinterestchallenge, click here to sign-up ⇒ May Pinterest Challenge
How to Easily Clean Silver
I pinned this Easily Clean Silver idea from H2OBungalow.com a while ago because I loved the idea of being able to clean silver without all the work of polishing.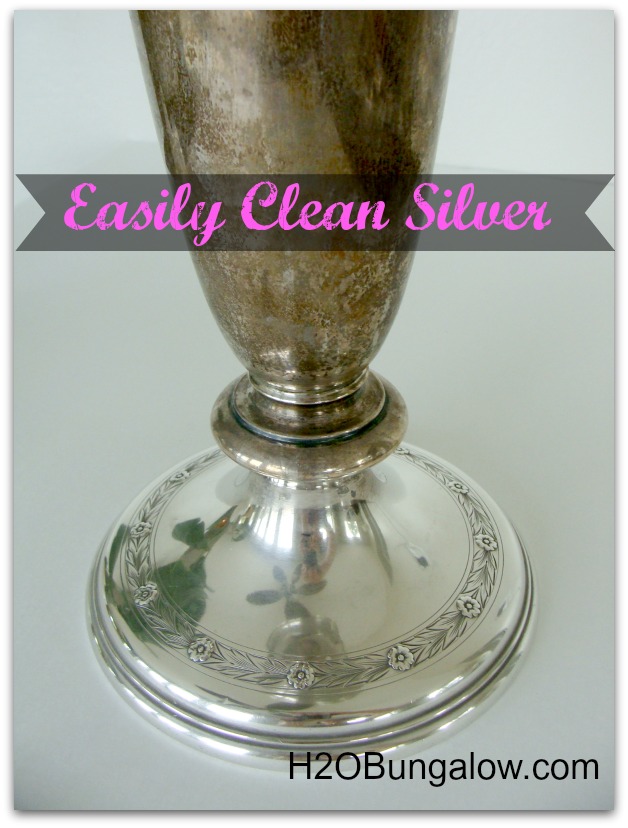 I wondered how well it would actually work, but I never got around to trying it until this month when my daughter had a Mad Hatter Tea Party for her birthday and we needed to use my silver.
So, I got out all of our silver for the tea party—my silver spoons and forks, a couple of silver candle sticks, and a cute but tarnished cream and sugar set—and got ready to soak them. The silver polishing "recipe" calls for baking soda, salt, aluminum foil, and hot water.
In the post on H2OBungalow.com, Wendy places two sheets of aluminum foil at the bottom of her sink and fills the bowl of the sink one-fourth with hot tap water, then adds a half cup of baking soda and a half cup of salt to the water. She soaked her tarnished silver for about 10 minutes then buffed it with a soft cloth to removed the tarnish.
I have a brand new farmhouse-style sink, so I didn't want to soak the silver in my sink bowl. Partly because that would have taken a lot of water and party because I'm not sure if the process would affect my sink's finish. So I used a plastic bucket inside the sink instead. Otherwise, I followed her process exactly.
How Well Did It Work?
I hate polishing silver, so I was really hoping I could totally avoid rubbing down the silver. However, buffing the silver after it soak took a little work. It was not nearly as much work as using silver polish, but more work than I expected. I did find that the hotter the water was, the less buffing it took to remove the tarnish and the better it worked (I had to do a few batches to get all my silver cleaned—you can see the difference in the photo below). I've seen other blogs that did this same process but used boiling water. I think I would try that next time.
The process did remove tarnish, but not quite as well as silver polish. My grandmother would not have been happy with the results, but the silver was definitely shiny enough for a Wonderland Tea Party.
So my verdict is that it worked pretty well. This is a much easier method to get your silver shiny and looking beautiful. However, if you're hosting royalty, or my grandmother, you probably want to pull out the silver polish and do it the old-fashioned way.
How to Keep Your Silver Shiny
One final note: Once you've removed all the tarnish from your silver, there's an easy way to keep it shiny forever without every polishing, or buffing, it again. Check out how my post on how to keep metal shiny. It works on brass, copper, and other metals too. I'm not sure if it's food-safe, so it's probably best to used it on display-only metals.
Check out all the fun great ideas below from other bloggers in this Pinterest Challenge and take a look at the February Pinterest Challenge here for more Pin-tested ideas.
---
Now let's see what other things Pinterest inspired! Head over and visit the other hosts to see what they crafted, cooked, built, or tried!
Erlene – My Pinterventures • Lauren – Mom Home Guide
Debbee – Debbee's Buzz • Laurie – My Husband Has Too Many Hobbies
Marie – DIY Adulation • Julie – Sum of their Stories
Marie – The Inspiration Vault • T'onna – Sew Crafty Crochet
Pili – My Sweet Things • Debra – Shoppe No. 5
Roseann – This Autoimmune Life • Terri – Our Good Life
Lisa – Blogghetti • Marci – Stone Cottage Adventures
Leslie – Once Upon a Time & Happily Ever After
Rebecca – Simple Practical Beautiful • Cherryl – Farm Girl Reformed
Kelley – Simply Inspired Meals • Joanne – Our Unschooling Journey
Jenny – Cookies Coffee and Crafts • Gail – Purple Hues and Me
Sam – Raggedy Bits
Beverly – Across the Boulevard • Samantha – Little Bits of Home
Kristie – Teadoddles • Shirley – Intelligent Domestications
Kelli – Olympic Nest • Chelsea – Making Manzanita
Cherryl – Farm Girl Reformed • Ola – J'adore Le Decor
SaveSave
SaveSave
SaveSaveSaveSave