Here's ten ways to showcase your favorite succulent plants. Each succulent planter would make a great gift or beautiful decor for your home.
This post has links to products I used to do this project. If you click on those links, I may earn a small commission at no extra charge to you. Thanks for your support.
Succulents have become very popular recently, which worked out perfectly for me. They look great with our mid century decor. And since we recently moved to southern California, we can easily grow them indoors or outdoors. I even created a whole succulent garden in our backyard.
But it's also fun to give succulents as gifts. Especially since it's so easy to make new plants from old ones. And they make great decor pieces, like the little one below our newly refinish clock.
Here are ten ways to make beautiful succulent planters:
Succulents in Tea Cups
I used thrift store tea cups and drilled a small drainage hole in the bottom to make these cute succulent planters to give as gifts.
Read more on SimplePracticalBeautiful.com
Succulents Centerpiece with a Candle
This terra cotta planter actually has a smaller terra cotta pot hidden inside to hold a pillar candle in the center. Whether the candle is lit or not, this succulent planter makes a stunning centerpiece for any table.
Modern Hexagon Coasters with Succulent Cups
These little wooden hexagon coasters are simple to make and allow endless rearranging possibilities. The beautiful, ceramic cups I found at a thrift store fit perfectly on the coasters.
A DIY Wood Crate Succulent Planters
Use old wood to make a simple box for your succulents. (They can even stay in their plastic pot and no one will know).  Add some fun details with stencils and craft ink.
Rustic Terra Cotta Pots with Succulents
These three terra cotta pots are painted roughly with white and then off-white paint to give them a rustic, worn look. The hemp string add a nice detail, and the little box that holds them all together is actually upcycled from an old toy.
A Succulent Rock Garden
Kati from Houseful of Handmade created this beautiful little succulent planter out of a ceramic chicken roasting pan she found at a thrift store. She added cacti potting soil, some river rocks, and a few little succulents to make a cute indoor garden.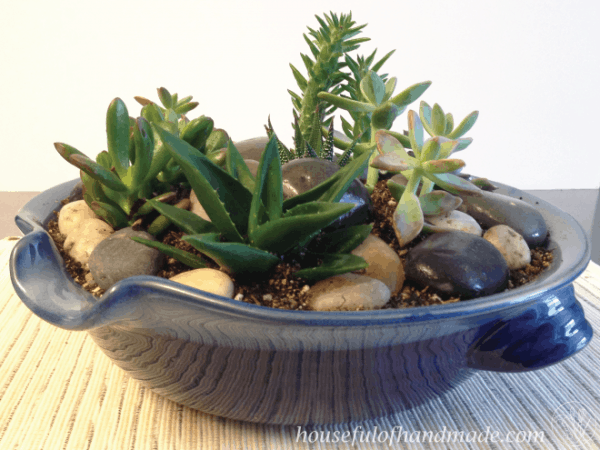 Read more on housefulofhandmade.com
Driftwood Succulent Planter
Ashley from Cherished Bliss used a piece of driftwood from an aquarium to display her succulents. All that beautiful texture looks stunning with her decor.
Read more on CherishedBliss.com
DIY Faux Concrete Bowl Succulent Planter
Krista from The Happy Housie made this very modern-looking cement succulent planter, only it's not actually made of concrete! You'll never believe how simple this is to make.
Read more on the thehappyhousie.com
Easy Succulent Garden from a Thrift Shop Find
Jennifer Priest made this vibrant planter as a centerpiece for her outdoor table using a colorful bowl she found at a thrift store. She even has a great video tutorial on how to make it.
Read more on jenniferppriest.com
Color Block Succulent Planters
These modern, color block planters by Molly at Just a Little Creativity are simple clay pots with some fun colors. Her painting technique is pretty simple, but makes a big impact visually.
read more on JustALittleCreativity.com
Succulents are a beautiful, easy, and low-maintenance way to add greenery to any room.  These example show that a succulent planter doesn't need to be expensive to be stunning.